I created this party to display my new printable set and give some easy and inexpensive ideas for anyone hosting/attending a Kids Christmas Party this year. I wanted everything to be very  lighthearted and child-like, of coarse Santa had to be included. Thank you so much to my good friend Monica of Andary Studio who captured the party perfectly and Tracie's Sweet Treats for coming through at the last minute with delicious Red Velvet Cupcakes.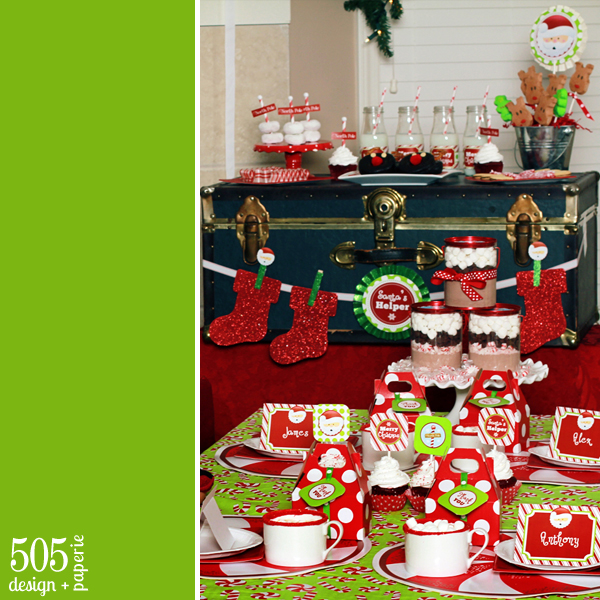 I set up my kids craft table – complete with plastic table cloth, it may not be the fanciest but they are 4 years old so it's functional.
I used my daughters dress up trunk to display the dessert.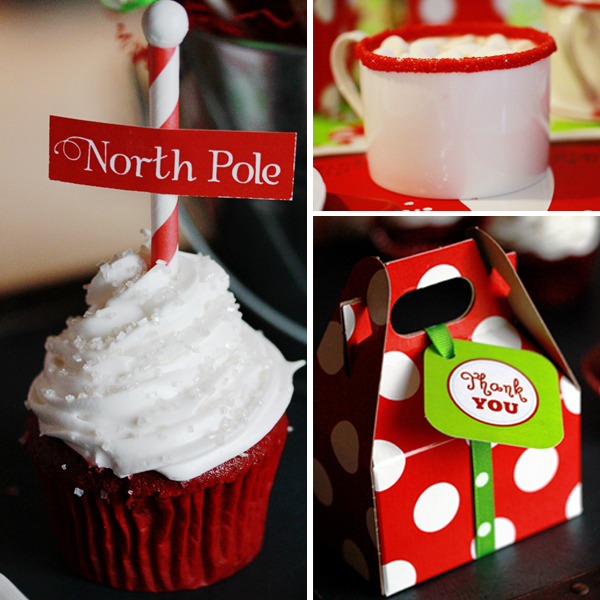 My main inspiration came from these adorable North Pole Cupcakes
To create the hot coco cups simply dip the rim in red chocolate and then again in red sugar sprinkles. This can be done a few days in advanced to save on time.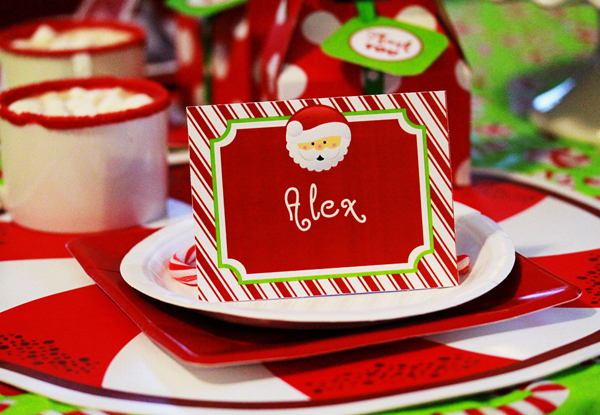 Various sizes of round and square paper plates for the place setting and the printable food label for the place card.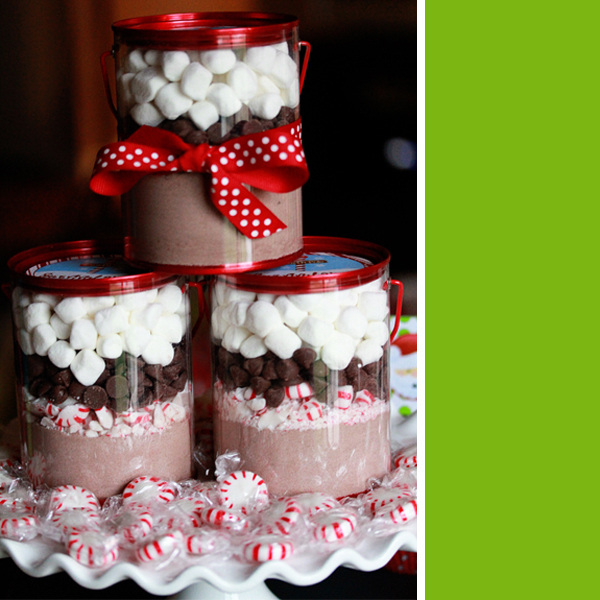 These lovely "North Pole Survival Kits" are so simple to make (tutorial coming soon!)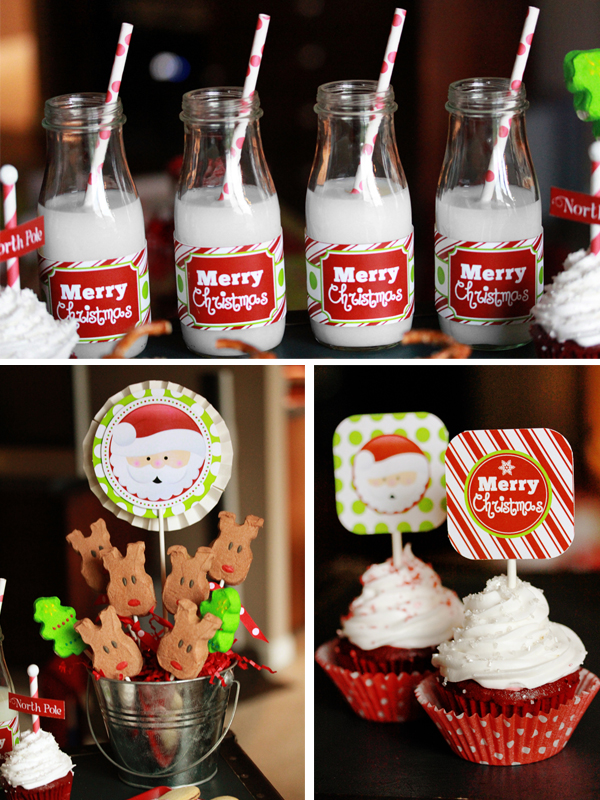 Milk Bottles – Starbucks frappuccino bottles cleaned and wrapped with drink bottle label topped off with 2% and a red polka dot straw
Rudolf Peeps – Chocolate Rudolf peeps on a lollipop stick – pretty simple but way cuter then throwing them on a plate.
Red Velvet Cupcakes – I added the red polka dot liner after with a dap of frosting and topped it with the printable cupcake topper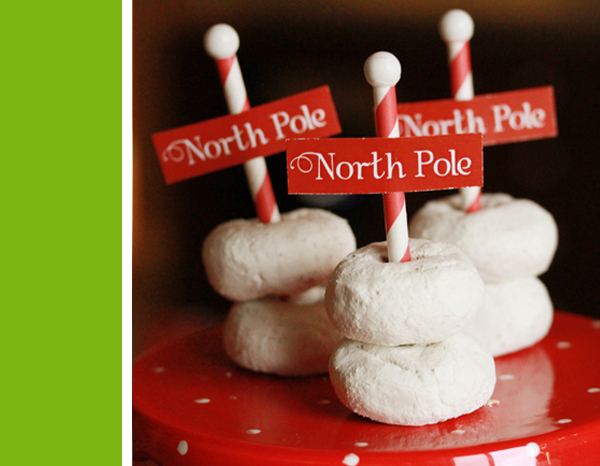 North Pole Snow Mounds – Mini powdered sugar doughnuts. I used a red striped straw cut in half and glued the mini North Pole flag and a sixlet to the top.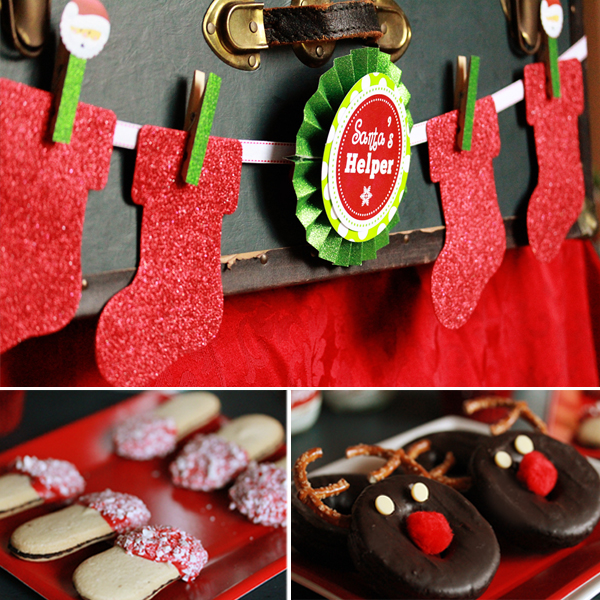 I covered clothes pins with glitery green paper to attach the red foam stockings and placed the centerpiece circle in the middle of the string.
Candy Cane Mint Milanos – Milano Cookies dipped half way in red chocolate and then dipped in crushed up candy canes/peppermints
Reindeer Doughnuts – Chocolate covered doughnut, pretezel cut in half for antlers, white chocolate chip for eyes and red ball for nose – make sure you remove that before serving;)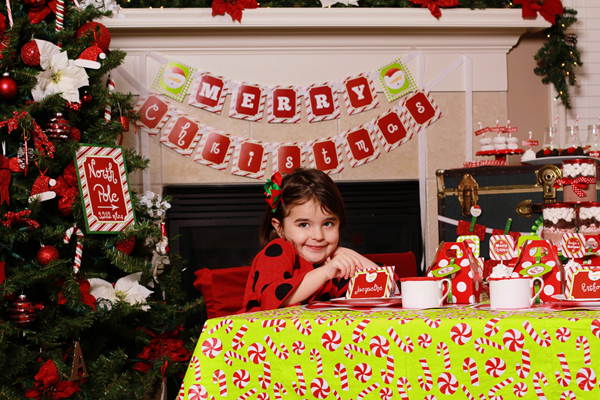 This party was created with mostly inexpensive store bought items displayed in a super cute way. Total, the desserts cost a whooping $25 and in all the party was less then $100.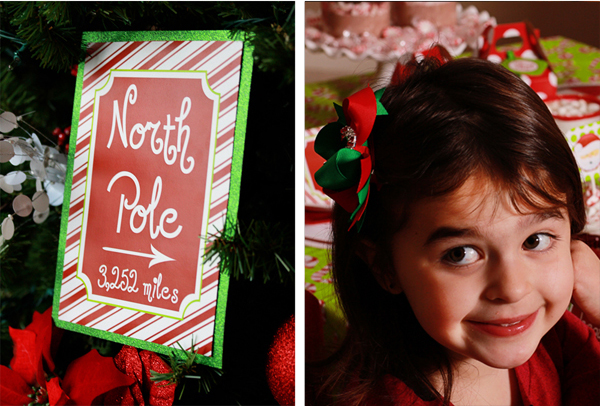 Thank you again to everyone who helped put the party together
Check out the full printable Holly Jolly Christmas Collection
Holly Jolly Printable Set – 505 Design+Paperie
Photography – Andary Studio
Red Velvet Cupcakes – Tracie's Sweet Treats
Peppermint Table Cloth & Place Mat, Square and round plates – Christmas Tree Shop
Polka Dot favor boxes,  Straws and Cupcake Liners –  The Bakers Confection
Glittery Stockings and Hot Coco Tin – Target
Candy Cane Mint Milanos Recipes – Hostess with The Mostess
have a wonderful christmas, cathy c.